Goodyear is proud to present its new winter tire: the UltraGrip Performance 3. It simplifies the winter range, replacing both UltraGrip 9+ and UltraGrip Performance +. The UtraGrip Performance + SUV remains in the catalog.
Developed by Goodyear's development center, the UGP3 meets the expectations of consumers, who are looking for good grip in all winter conditions.
To meet these needs, engineers have developed specific technologies: higher sipe density and grooves at the shoulder ends. The tread has also been designed to repel water to the sides rather than to the front, providing excellent grip in the wet.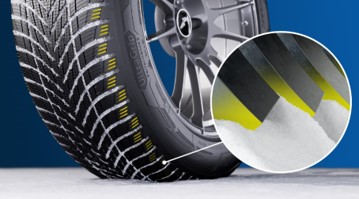 These innovations enabled the UltraGrip Performance 3 to take first place in the independent TUV test for: wet braking, snow handling and dry braking*.
Finally, reduced rolling resistance and noise reduction have been worked on to make this tire compatible with both internal combustion engine and electric vehicles.
Some sizes are already available to order, and others will be available until the end of the year. List of compatible sizes for the Peugeot range:
Peugeot 2008 (2019, 130 hp) : 215/65R16 102H
Peugeot 208 (2019, 100 et 130 hp) : 205/45/R17 88V
Peugeot 308 (2021, diesel 130 hp) : 205/55R16 94H
Peugeot 308 (2021, essence 110, 130 et 150 hp, PHEV 180 hp) : 225/45R17 91H
Peugeot 508 et 508 SW (2020, 130 hp) : 235/40/R19 96V
*Compared with the last 4 available profiles of the main competitors in the high-performance winter segment. Report number: 713234277-BM. Full details of the test report can be found at https://www.goodyear.eu/en_gb/consumer/tire-test-reports.html